I swear I've been searching for the perfect brown boots for years. You would think that boots would be easy to find, but it seems downright impossible to find a plain pair of boots - boots that don't have something trendy about them, like a super pointy / squared / overly rounded toe or super skinny / chunky heel, or some random unnessecary decorative bow or buckle. I just want a plain pair of knee-high dark brown boots with a normal toe and a moderate (but high) heel. I like some of the more creative ones too, but I don't want to waste my boot money until I have that first basic pair. This should not be as difficult as it is.
(I have a cheap pair of camel colored boots that I got when I was in high school, but I need a dark brown pair, and now that it's getting cooler again, I need boots. I'd like a better black pair (again, I have a cheap pair), but at least the ones I have are the right color.)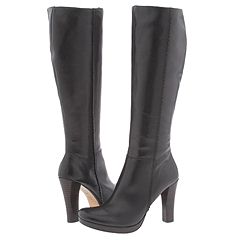 I finally found the perfect boots a year ago, and of course they retail for like $400. I finally went down to the Charles David store at South Coast Plaza yesterday to try on boots to get the right size with them. They no longer carry the Cheerful, but I figured any boot from them would do. I wanted to make sure their sizes didn't run large or small. I picked out a similar looking boot and asked to try on a size 7. I put it on, and the foot fit so perfectly, and felt so comfortably that I was even more impressed with my perfect boot (I'm guessing that they make the foot of their boots similar, it's usually the outside that differs). Then I zip them up and... it will only zip up to just below my calf muscle.
Nooo. What if my perfect brown boots won't fit on my calves? Do I have to start my search all over again? But the salesman said that those were the regular Charles David boots, and the Charles by Charles David line ran with a thicker calf. So he pulled out a pair of those for me to try on. This time they zipped up almost all the way, and the salesman said that once the boots are purchased they can stretch the calf a couple inches and they should fit.
But of course, they don't carry the right boots there at the store.
I found them online, and for a good price
. Now I just had to get back to a computer and look them up again to find out if they were Charles David or Charles by Charles David.
I got to work and looked them up. Charles by Charles David. YES! Not only that, but they are a few inches shorter than the boots that I tried on, so there should be less stretching to do. So they are now ordered and I should have them soon.